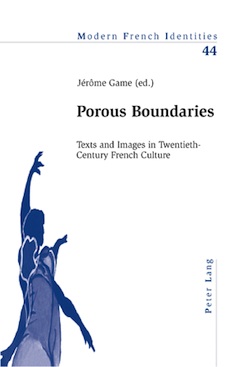 Porous Boundaries. Texts and images in 20th century French Culture
After the key moments of the livre d'artiste (from Manet/​Mallarmé to Picasso/​Reverdy) and Surrealist art, how did the text/​image relationship evolve in twentieth-​century French culture ? By what epistemological and aesthetic frameworks was it determined and, in turn, what new signs and practices, what new meanings did it produce ? This book offers a series of answers to these questions by looking at several case studies including Marguerite Duras' filmic rewriting, Pierre Klossowski's shift from writing to painting, contemporary video-​poetry, Gilles Deleuze's philosophical engagement with Bacon and Giacometti, and CD-​Rom aesthetics. What brings the various essays in this volume together is a challenging new reading of the text/​image relationship as a porous boundary through which texts and images no longer merely illustrate or stand by each other but interpenetrate, hybridise or restructure one another.
With contributions by R. Bellour, H. Castanet, J. Game, J.-M. Gleize, T. Mathews, J. Rancière, J.-M. Rey, M.-Cl. Ropars, N. Wourm.